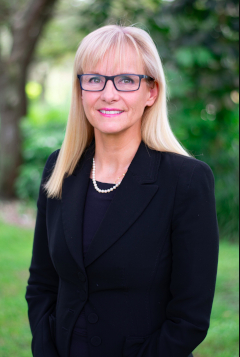 Dr. Adolphe is a Professor of Law at Ave Maria School of Law (AMSL), in Naples, Florida (2001 – present), and an Adjunct Professor of the University of Notre Dame, School of Law, Sydney. She has worked as an external and internal legal advisor for the Holy See, Secretariat, Section for Relations with States and writes in the area of international law and the Holy See.
Adolphe is a civil lawyer holding degrees in common law and civil law (B.C.L./LL.B) from McGill University and is qualified to practice law in the State of New York and the Province of Alberta. She holds a doctorate in canon law (J.C.L./J.C.D) from the Pontifical University of the Holy Cross, in Rome, Italy. Her doctoral thesis is entitled: A Light to the Nations: The Holy See and the International Convention on the Rights of the Child.
Adolphe established the International Catholic Jurists Forum (ICJF), in 2014, which has organized multiple international expert meetings, some resulting in books that she has co-edited: Clerical Sexual Misconduct: An Interdisciplinary Analysis (Cluny: 2020); Equality and Non-discrimination: Catholic Roots, Current Challenges (Pickwick: 2019); The Persecution of Christians in the Middle East: Prevention, Prohibition, Prosecution (Angelico Press: 2018).
Another notable book is St. Paul, the Natural Law and Contemporary Legal Theory (Lexington: 2012), which is co-edited with Dr. Robert Fastiggi. It is the outcome document of a speaking series between theologians from Sacred Heart Major Seminary and AMSL law professors. Held during the "Year of St. Paul," declared as such by Pope Benedict XVI, the book responds to a specific request to AMSL President and Dean, Bernard Dobranski, for a conference on the natural law. That request had been made some years earlier by Pope Benedict in his capacity as Cardinal Joseph Ratzinger, Prefect of the Congregation for the Doctrine of Faith.
She began her legal career clerking with the Court of Appeal and Queens Bench in Calgary, Alberta, and the law firm Bennett Jones Verchere, then prosecuted criminal cases for the Alberta Crown Prosecutor's Office, and later worked as a legal consultant to a law firm in Rome, and to non-governmental organizations lobbying at United Nations' conferences, before participating as a member of various delegations of the Holy See at international meetings.